Materials Index
Our materials reflect our compromise to the world.
1

Fabric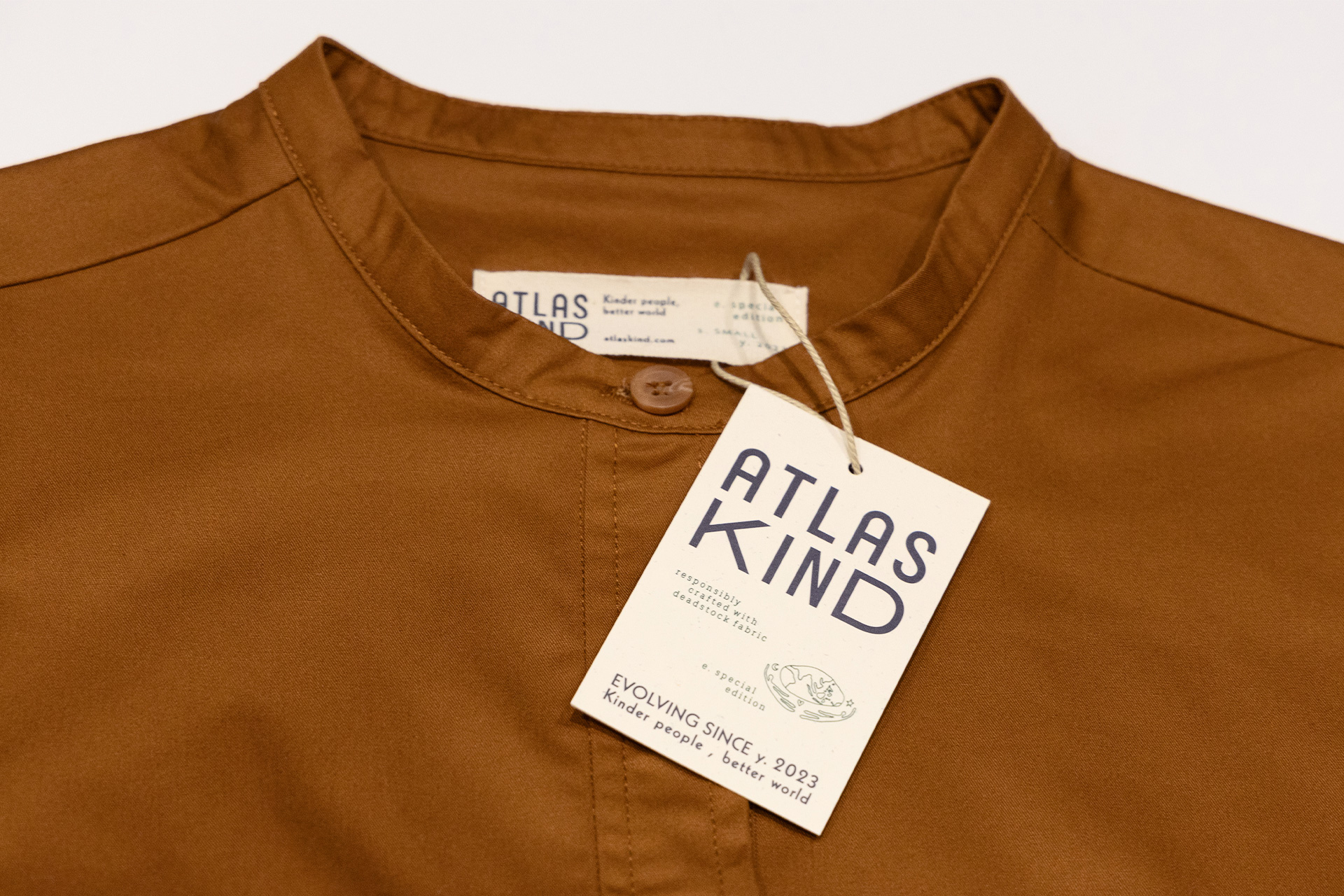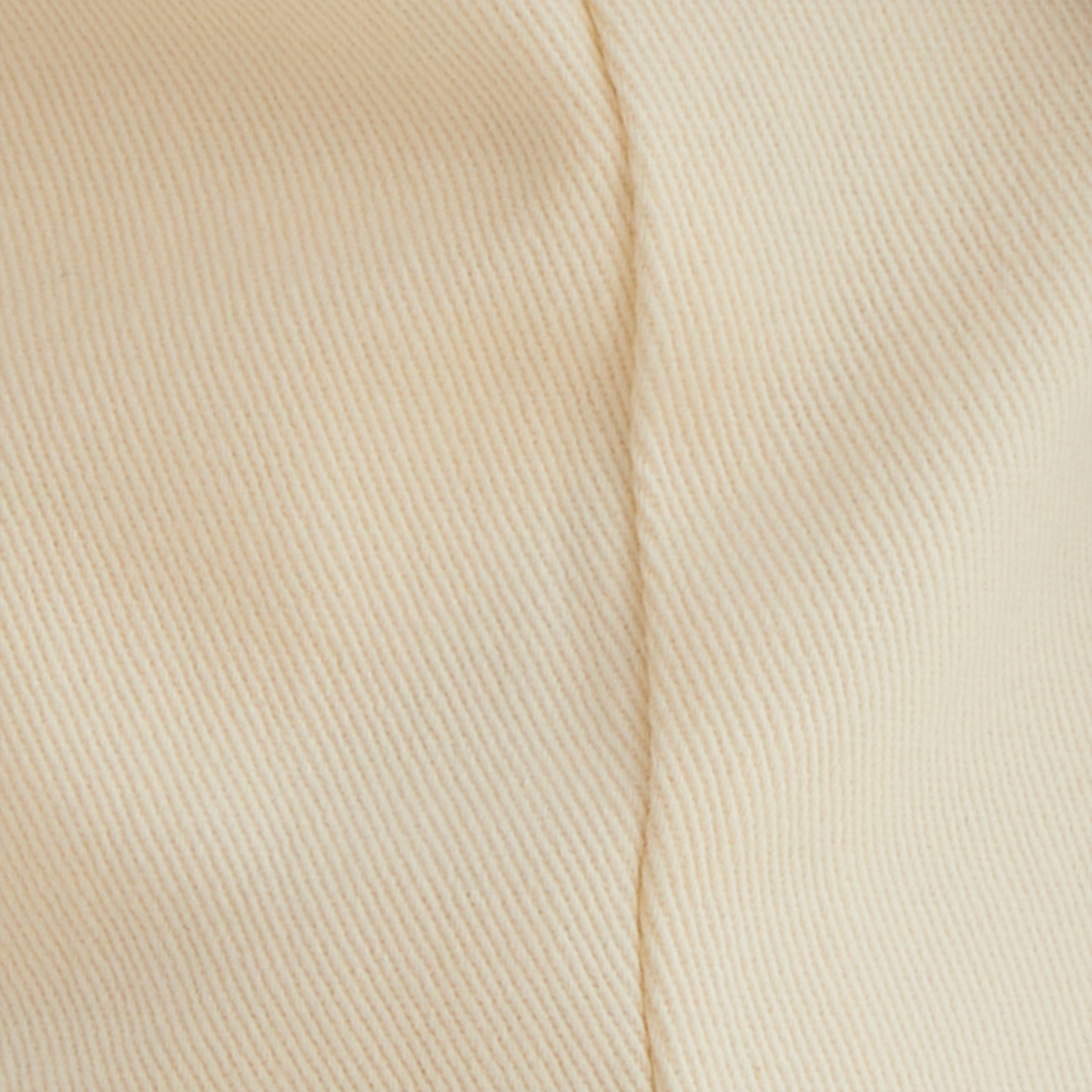 Organic cotton is a kinder alternative to conventional cotton that has been grown without the use of harmful chemicals or synthetic pesticides.

This provides a cleaner and healthier working environment for farmers and their workers and ensures that when you invest in a product made from organic fibers, you will not be exposed to remnant chemicals.

Our organic cotton clothing is made from GOTS-certified cotton fibers. GOTS stands for Global Organic Textile Standard. It was established in 2006 and its purpose is to define a set of criteria that is internationally recognised to ensure the organic status of fabrics. The certification process is assessed by independent third-parties and covers each step of the textile supply chain, from harvesting raw materials to manufacturing end products such as yarns, fabrics, clothes, home textiles, and more.

At the moment, our GOTS certification covers the crucial early stages of the production process, from prepping the fibers to weaving, dyeing, and finishing treatments. Our goal is to ultimately be able to achieve a fully GOTS-certified supply chain and we are actively working on it.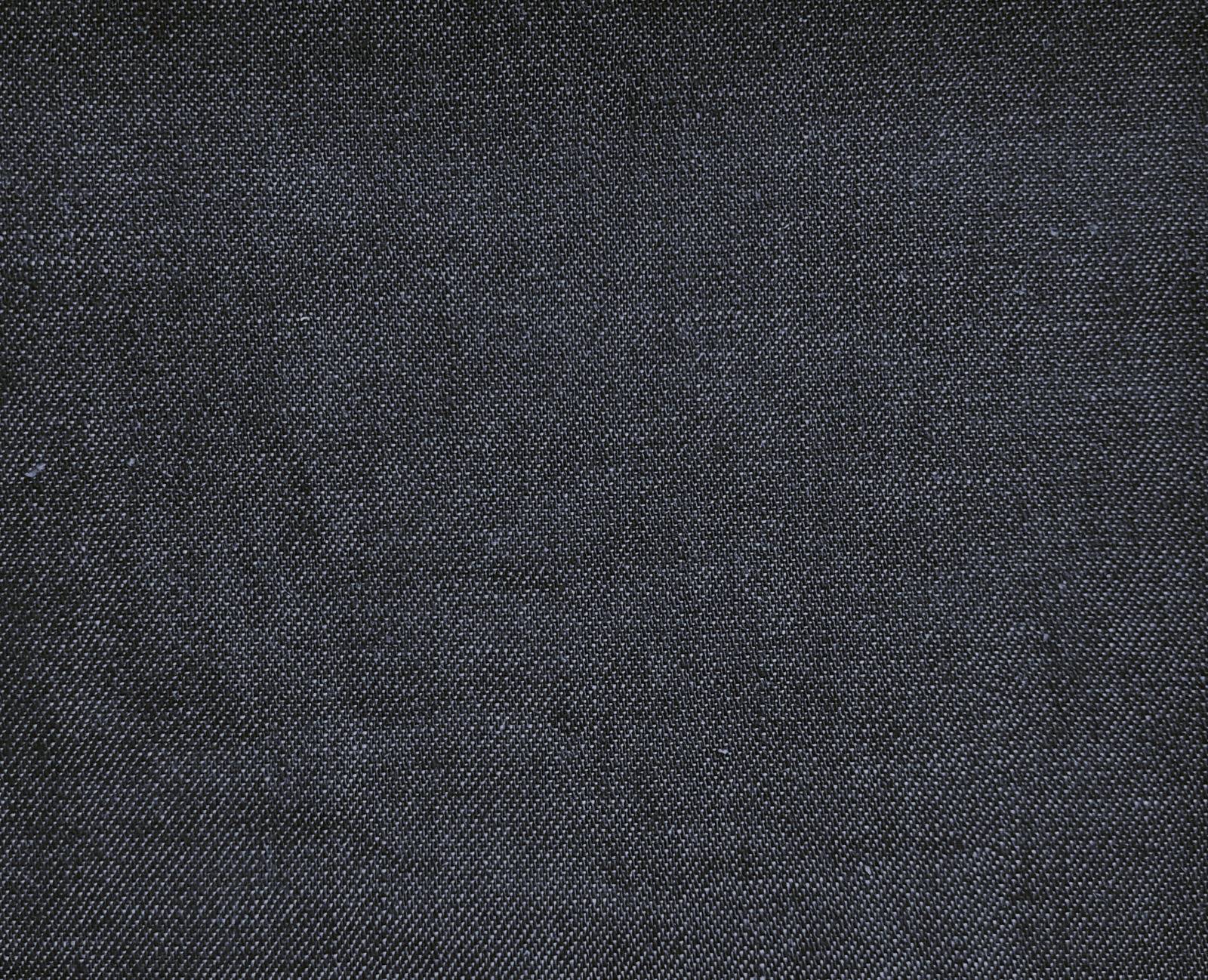 Cotton poplin is a lightweight, breathable fabric that's perfect for warm weather.

It has a smooth texture and a slightly crisp feel, making it both comfortable and stylish. With its versatility, cotton poplin is commonly used for shirts, dresses, and skirts. Its durability and easy care make it a popular choice for everyday wear.

BCI stands for Better Cotton Initiative, a global not-for-profit organization that promotes sustainable cotton production.

The Better Cotton Initiative (BCI) certification provides some accountability and reassurance for conscious consumers. These fabrics are made from cotton that is grown using responsible farming practices, such as reducing water and pesticide usage. BCI fabrics are not only kinder to the environment but also to the people involved in the production process.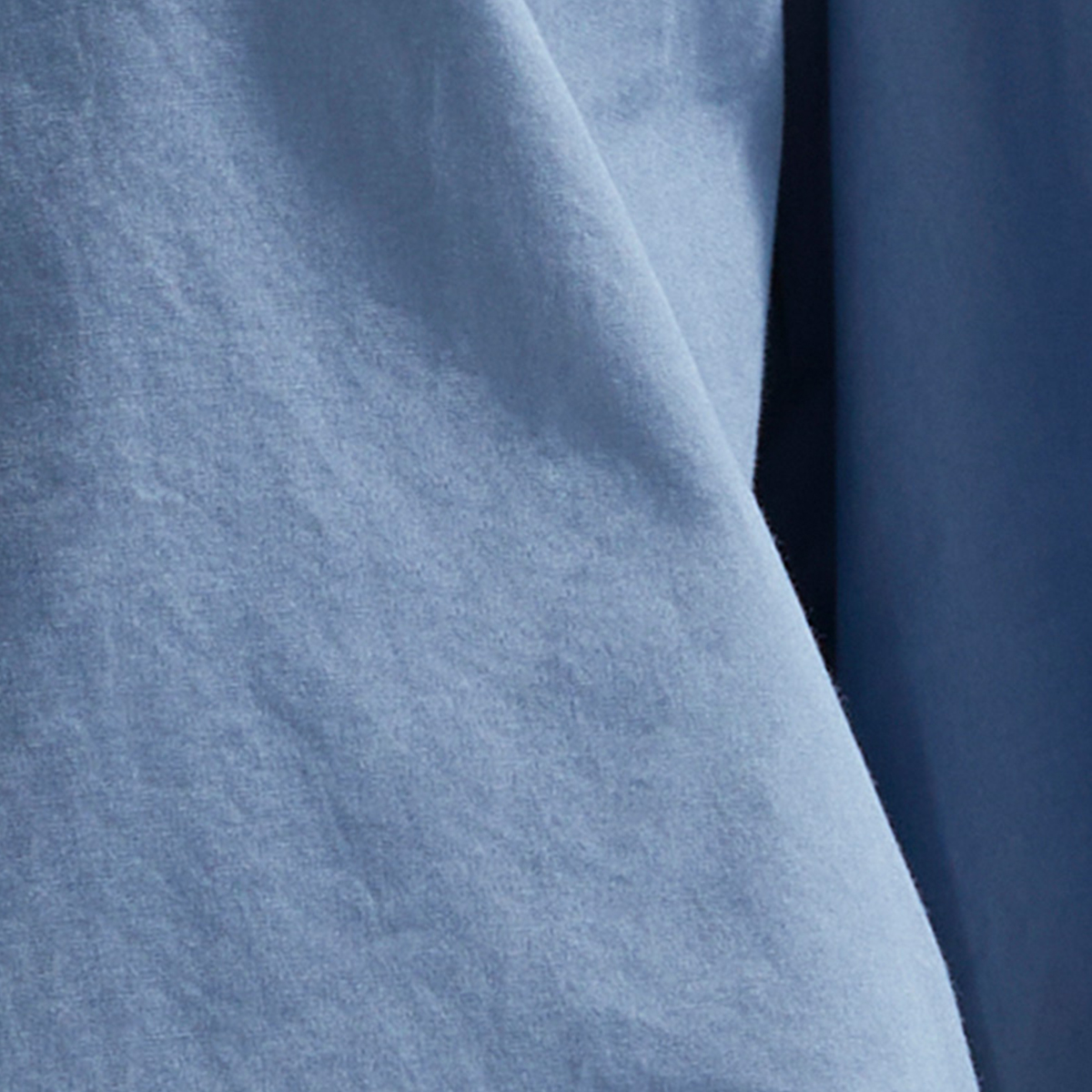 Our Japanese Cotton fabric is made from a unique blend of materials: cotton and recycled polyester. The recycled polyester component is made from recycled plastic bottles which would otherwise end up in the landfill. This special fabric is woven with an eco-friendly cooling technology, CoolMax®, which ensures the fabric is able to absorb sweat and evaporate quickly, and easily. It's also thin, lightweight, and easy to care for.

This means you will be kept cool and comfortable all day long while also helping the environment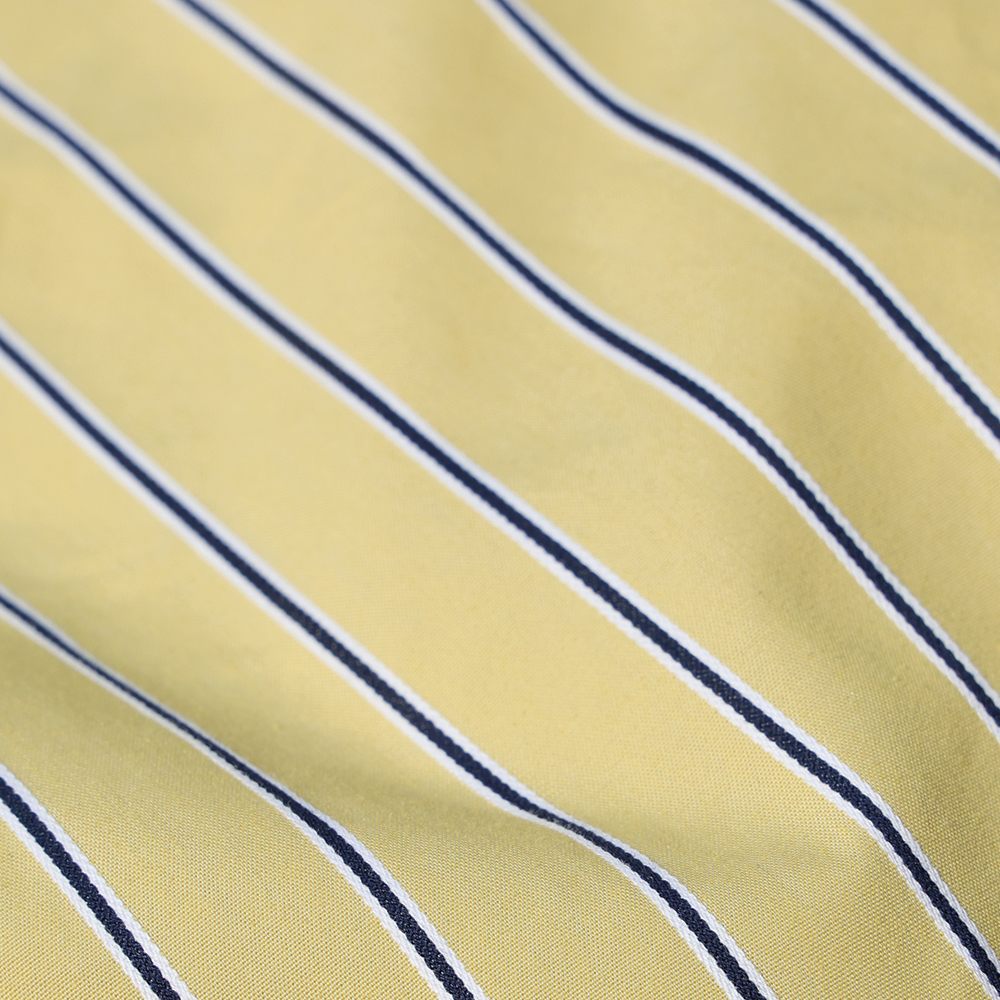 Oxford fabric has a unique basketweave pattern and is both durable and versatile. It is made from a blend of cotton and synthetic fibers, making it both comfortable to wear and easy to iron. In the textile industry, it is widely used to produce shirts, blouses, and dresses.

Our Oxford is made from a blend of fibers made from Pre-Consumer waste (PCW) and cotton.

Pre-Consumer Waste (PCW) is waste that is collected during the manufacturing process that has not yet reached the consumer. This can include cuttings, scrap or damaged yarn, unfinished fabrics, and rejected or excess fabrics.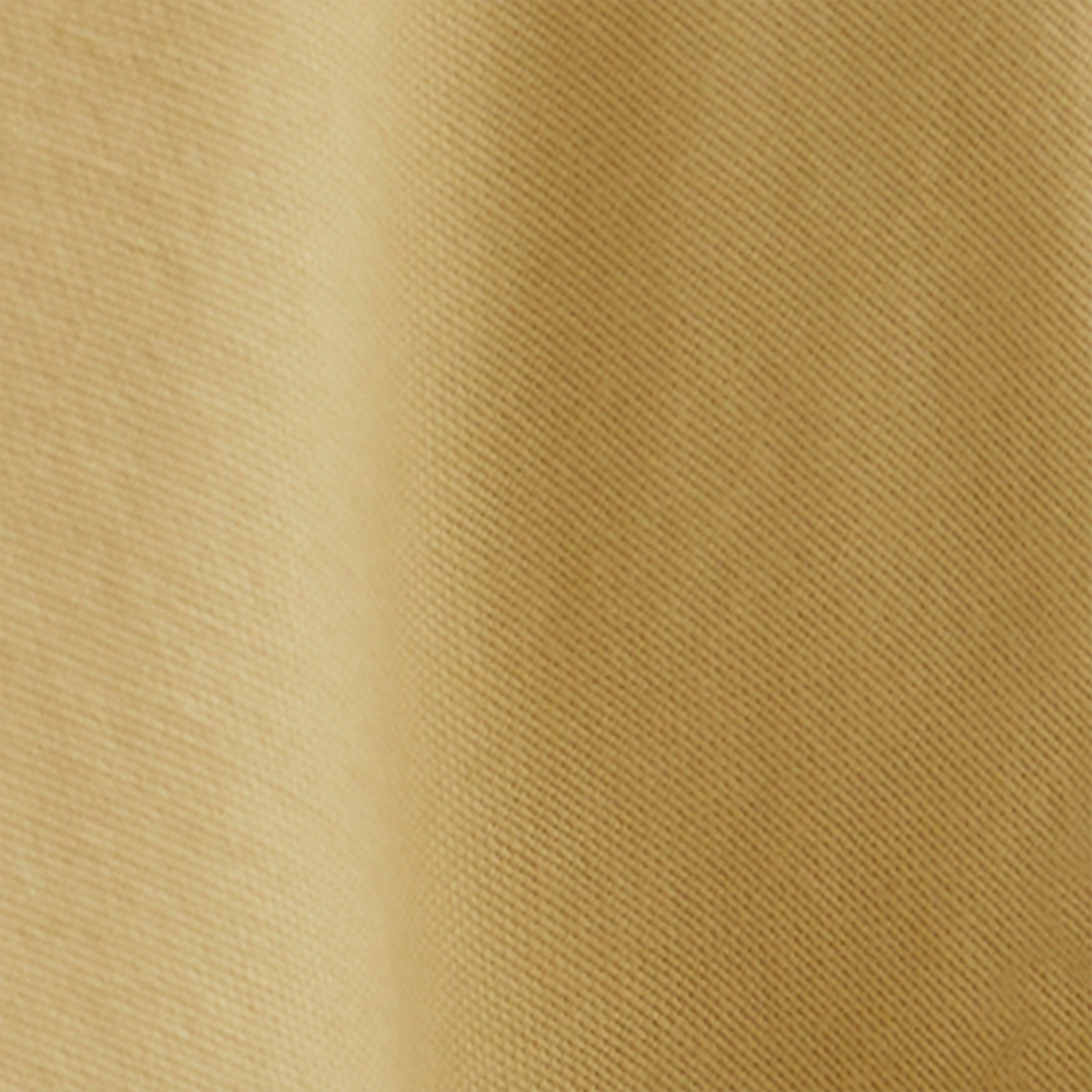 Atlas Kind seeks to reduce waste as much as possible by finding alternative solutions when developing our products. Opting to use organic deadstock fabrics that are still in good condition can help us to support this aspiration without compromising quality and comfort.
2

Components
2.1 Sizing and care wash labels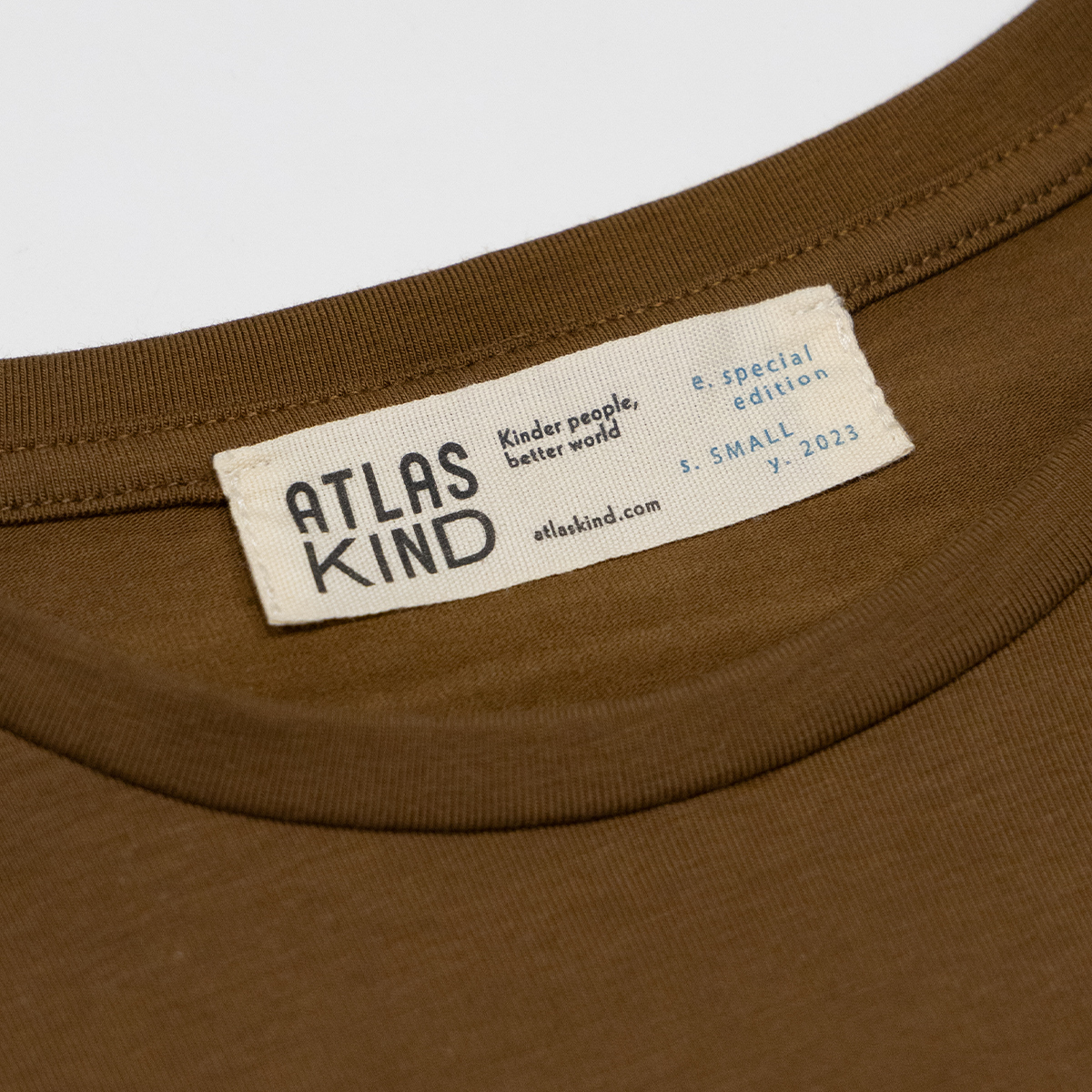 We have chosen for the components of our garments to be made from recycled materials. These are produced responsibly for us by Weavabel, our sustainable branding and packaging partner.

Our spare button is also provided directly on our care wash label to limit unnecessary packaging.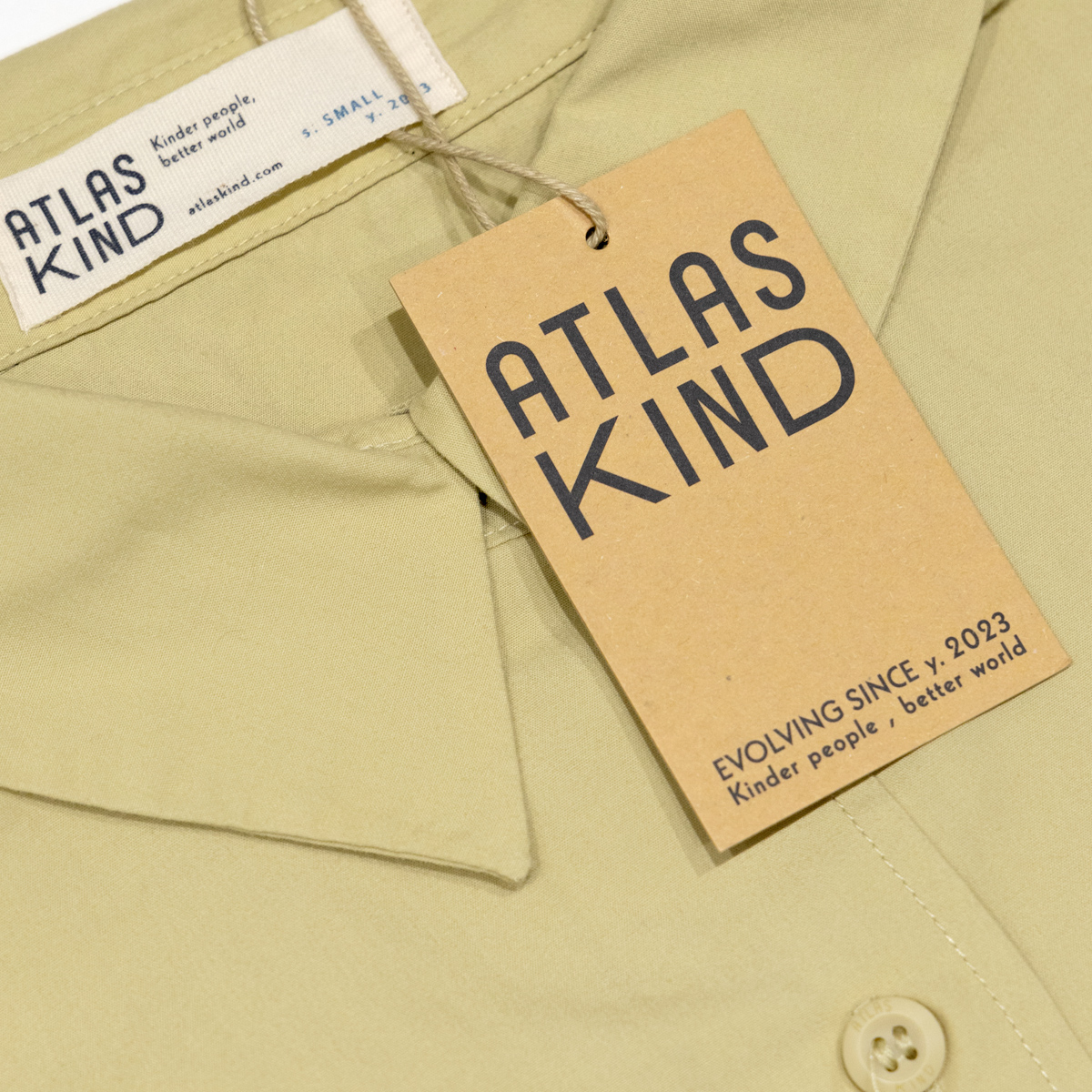 Our swing tags and strings are produced using recycled materials, with the help of our sustainable branding and packaging partner, Weavabel.
3

Packaging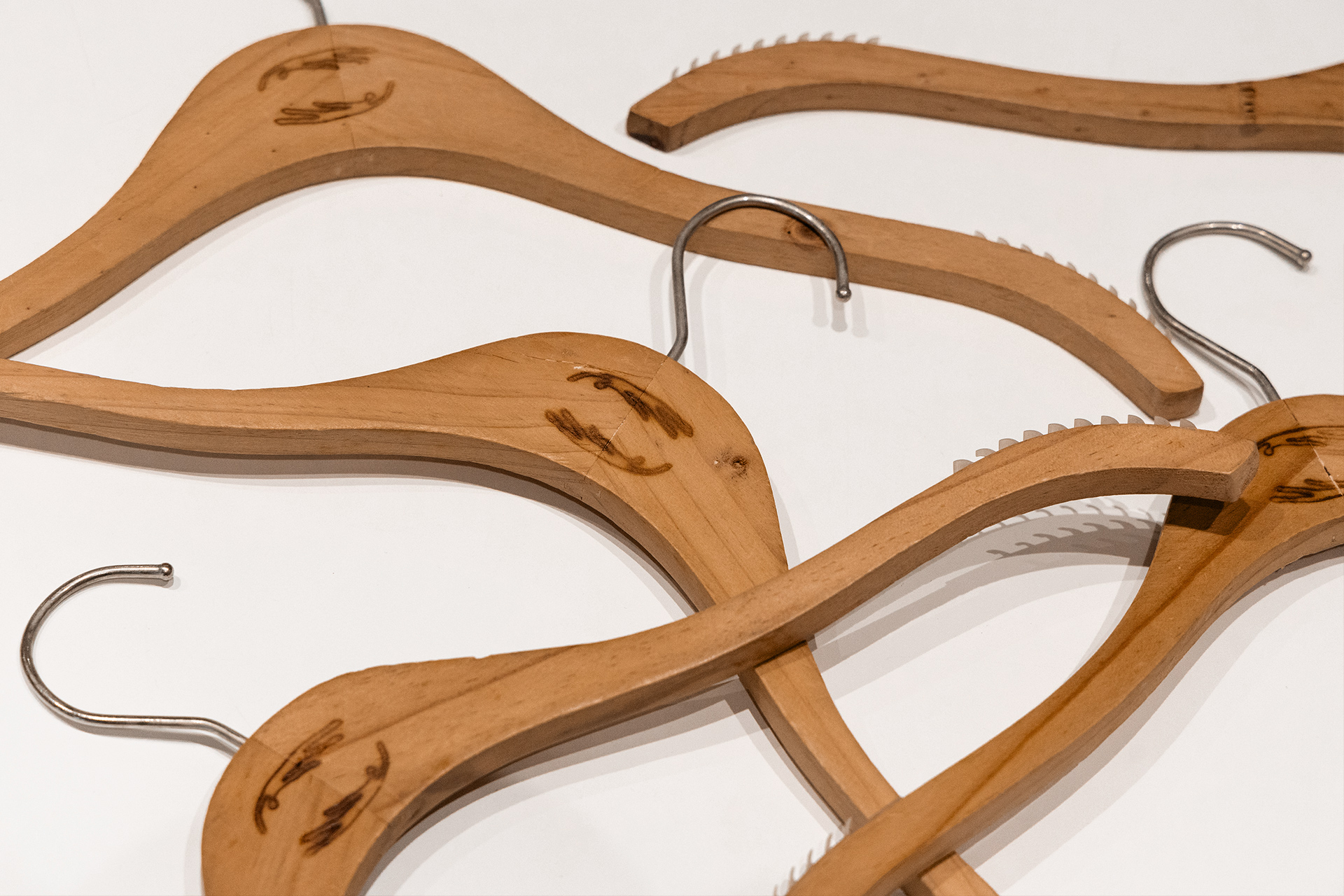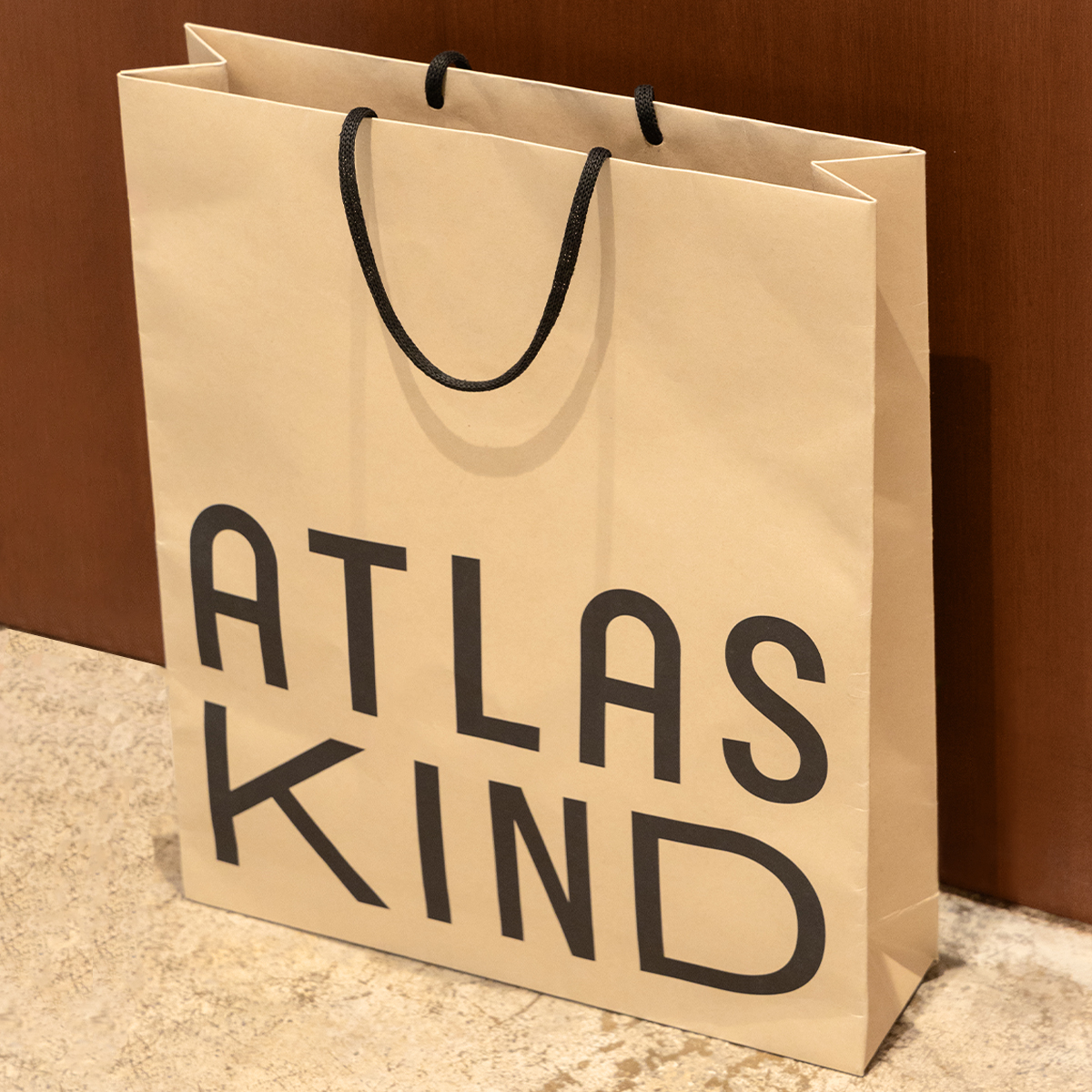 Our in-store carry bags are made entirely out of FSC Certified (Forest Stewardship Council) Bamboo and printed with water-based ink. The sturdy circular handles are also made from paper, making it even easier to recycle responsibly.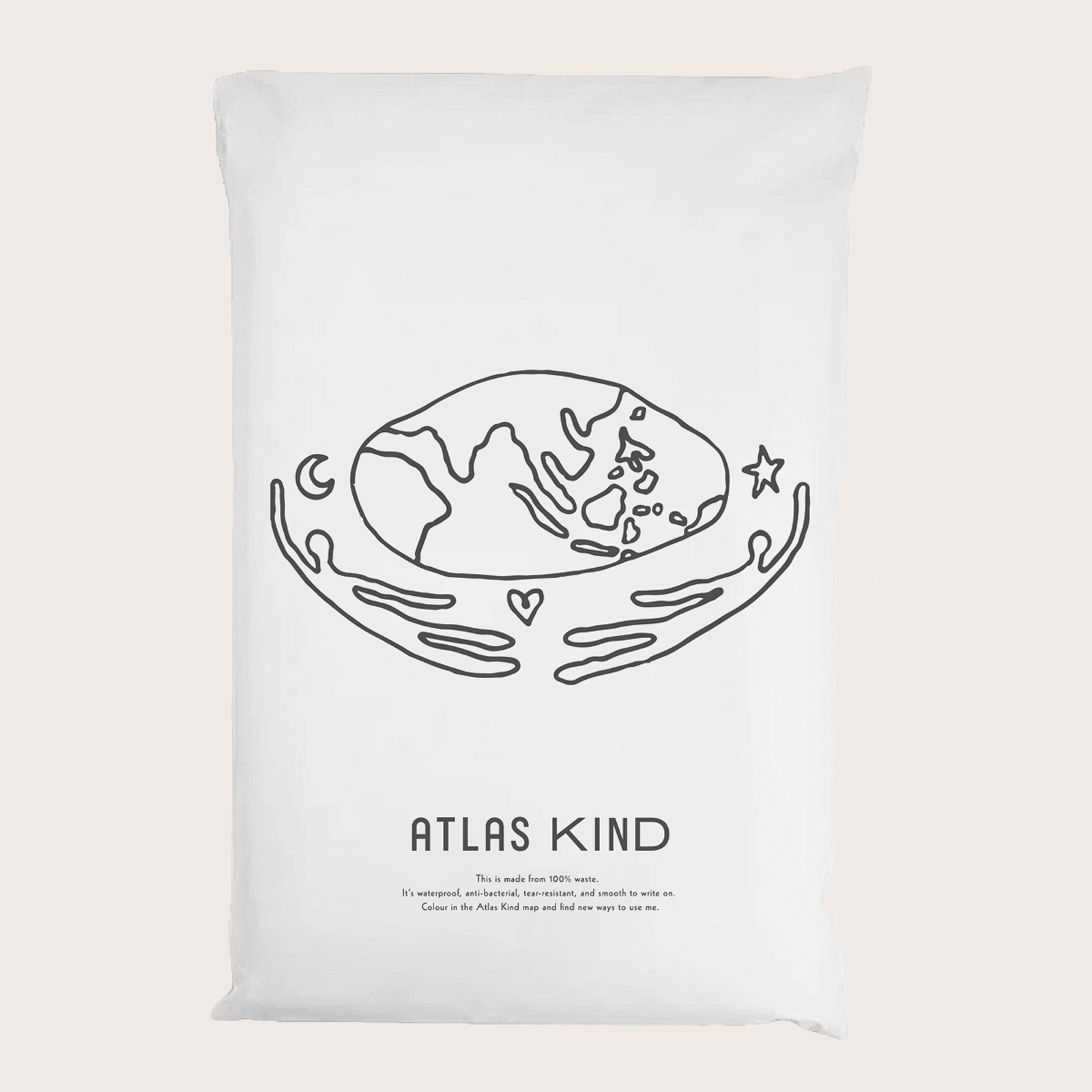 Mailers for our online store are produced by our partner, Better Packaging Co.,
a New Zealand-based eco-friendly packaging company. They are created using "ØPack" (pronounced "zero pack"), a special type of waterproof material made out of limestone quarry waste and a small amount of recycled resin.

It has a luxurious matte texture, and is a beautiful surface to write on. Fill in the globe with colour, and repurpose it as you wish.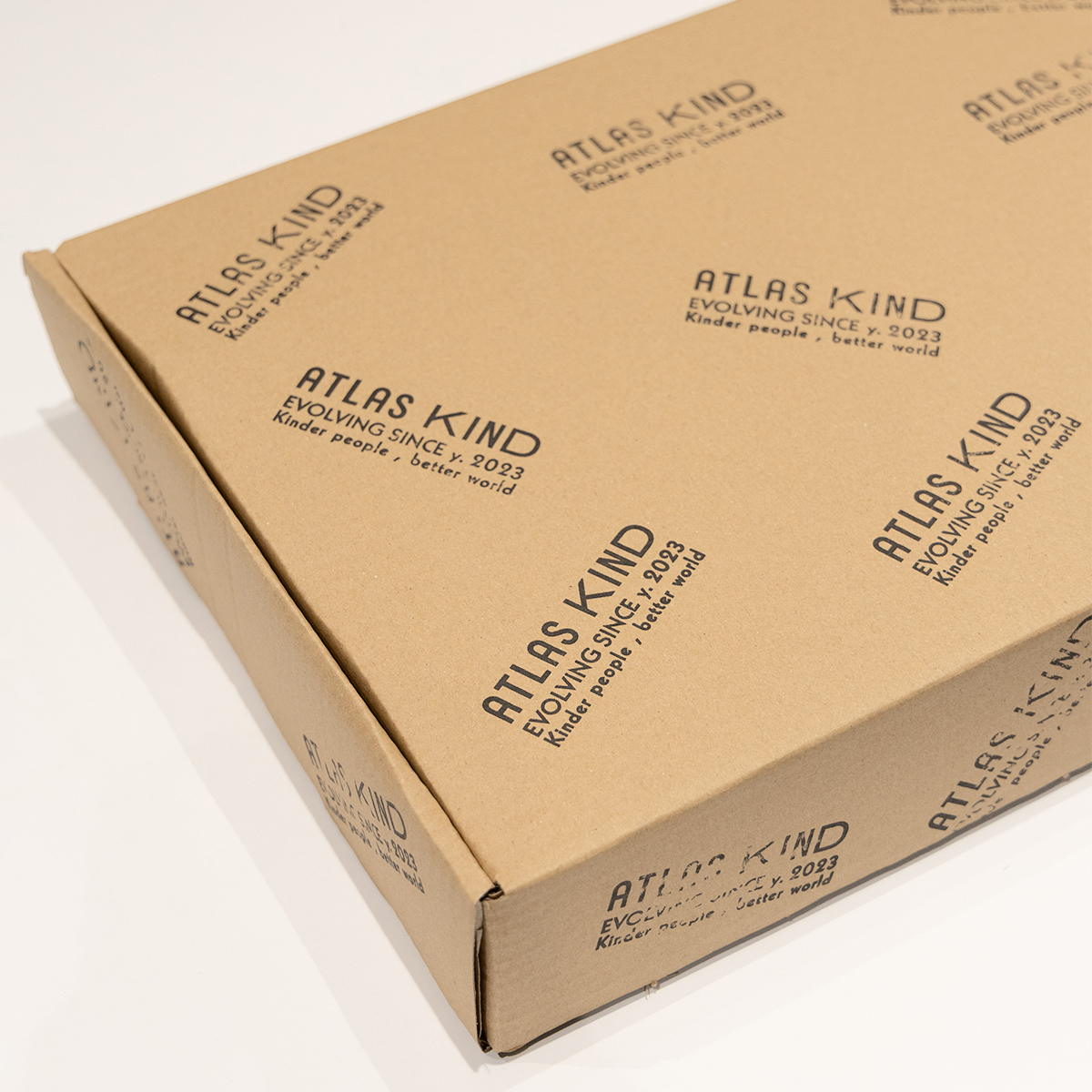 Larger online orders will be packaged in our hand-stamped cardboard boxes.

Typically a high minimum quantity order (MOQ) is required to customise cardboard boxes. In order to minimise wastage, we chose to instead utilise standard cardboard boxes that are readily available. This would give us more flexibility in controlling the number of quantities we purchase to manage waste minimisation.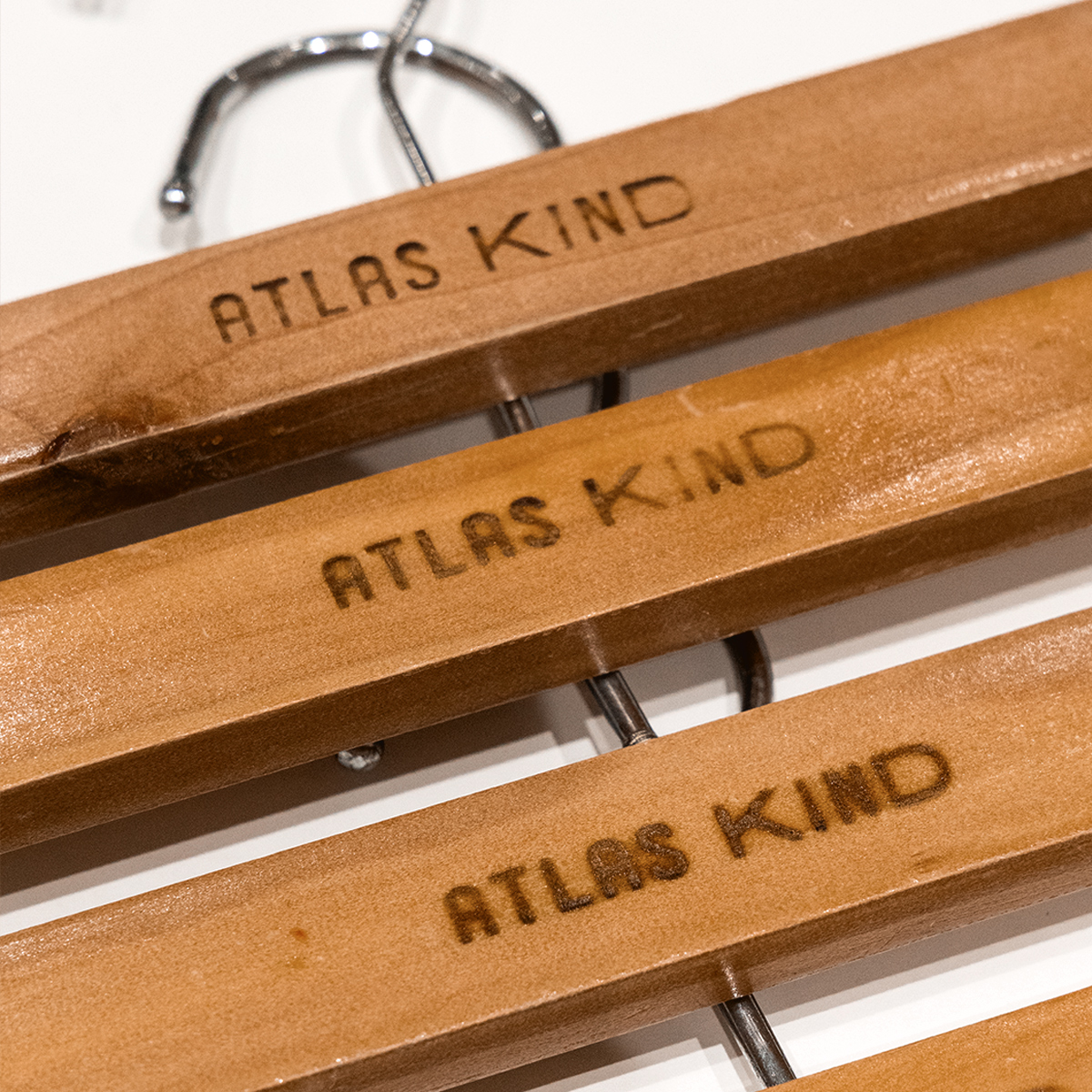 To maximise the lifespan of what's already available, we procured second hand wooden hangers for our in-store displays. Each piece has been hot stamped with care by our team. Hot stamping on wood, in this case, is a method of relief printing of our logo that has been transferred to a surface at high temperatures and with the right amount of pressure.

Personalisation such as this will encourage us to take greater care of our belongings, as more work is required to replace them.